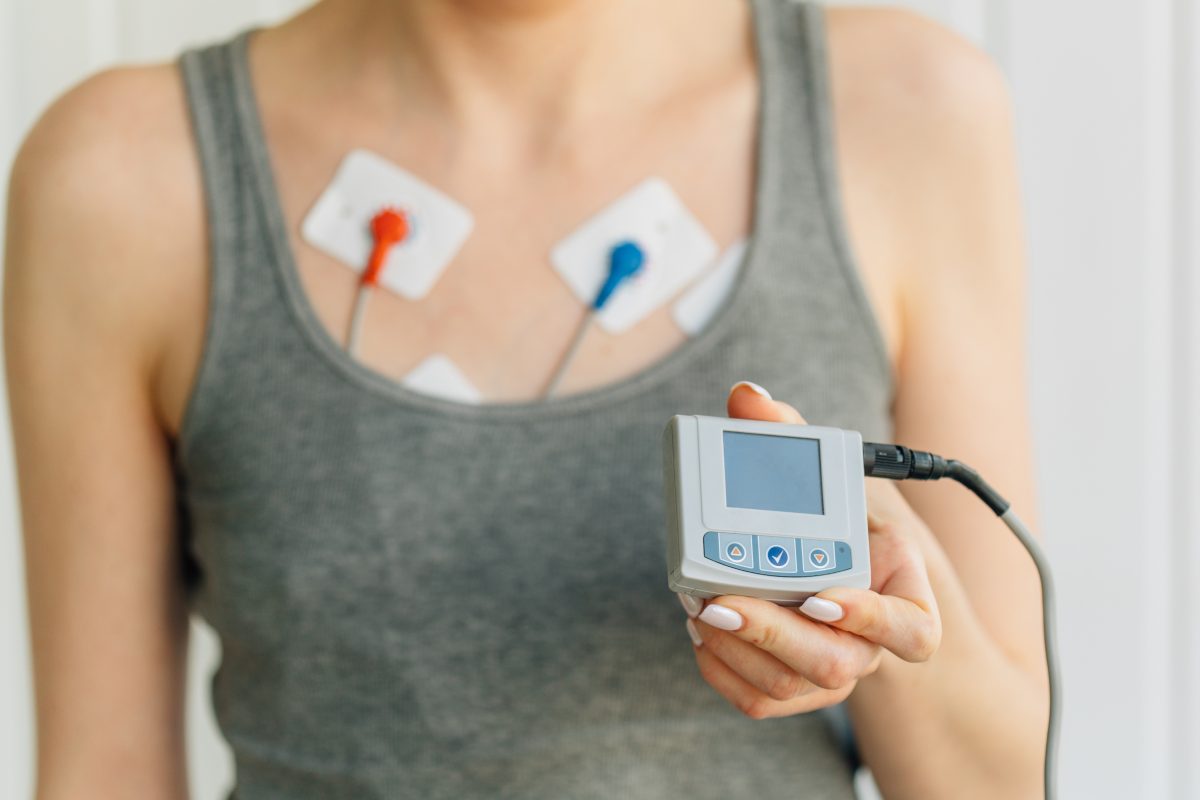 A Holter monitor is a small, portable battery-operated device that records your heart rhythm for a 24-hour period
What is a Holter Monitor?
A Holter monitor is a small, portable battery-operated device that records your heart rhythm for a 24-hour period.
An ECG (see above) provides your cardiologist with a 10 second snapshot of your heart's rhythm whereas a Holter Monitor records your heart's rhythm for a longer period of time (usually 24 hours).  A Holter monitor may be required for any of the following reasons:
For detection of an irregular heartbeat that may come and go and is not always picked up on routine ECGs.
To observe your heart rhythm especially if you have experienced palpitations or other symptoms such as dizziness, skipping heart or feeling faint
To observe your heart for any irregular arrhythmias which may arise from a heart condition
Monitor your heart after commencing new medicines
To determine if your heart is getting enough oxygen to meet its needs
If you have a pacemaker and feel dizzy, your doctor may use a Holter monitor to find out if your pacemaker is working properly
A current referral from your GP or specialist
Medicare card and any concession cards as well as private health insurance details
B. Full payment will be required on the day of the test.
Pre-procedure instructions
Wear a loose-fitting shirt or top as the practice nurse/technician will need access to the chest area
Your skin will be clean and prepared for ECG electrode placements (Your chest may be shaved in small areas if you are very hairy)
ECG dots are placed across your chest
The dots may be secured with tape (Please advise the practice nurse/technician if you have any allergies to tapes etc)
Once the electrodes are in place, the practice nurse will help you put the Holter monitor on and explains how to take care of it. You can carry the monitor in a pocket or pouch, slung across your shoulders and neck like a purse or camera, or attach it to your waist.
Do your usual activities while you wear the monitor with these exceptions:
Don't bathe, shower or swim while wearing the monitor.
Don't have X-rays while wearing the monitor.
Stay away from metal detectors or large magnets.
Don't scratch around the dots
Should an electrode fall off simply tape it back down
Please reconnect any leads if they become disconnected
The practice nurse/technician will show you how to press the event button on the Holter monitor if you feel any of the following symptoms
Chest pain
Shortness of breath
Skipping, racing or palpating heartbeats
Generally unwell
If it is too difficult to press the button the practice nurse/technician will ask you to keep an accurate diary of any of the above events.  Your diary will be compared to any changes in your ECG recorded by the Holter Monitor.
The monitor is not painful to wear and has no associated risks.
After the test period, please return to Central Park Specialist Centre and the practice nurse/technician will remove the monitor. She will upload the recording of your heart activity into the computer and prepare a report for your doctor. This will include any notes in your diary if you chose to write down any events instead of using the events button on the monitor. You should get the results of the test in one or two weeks
Once your Holter monitor has been removed you are free to leave
Cost of service

Bulk Billed