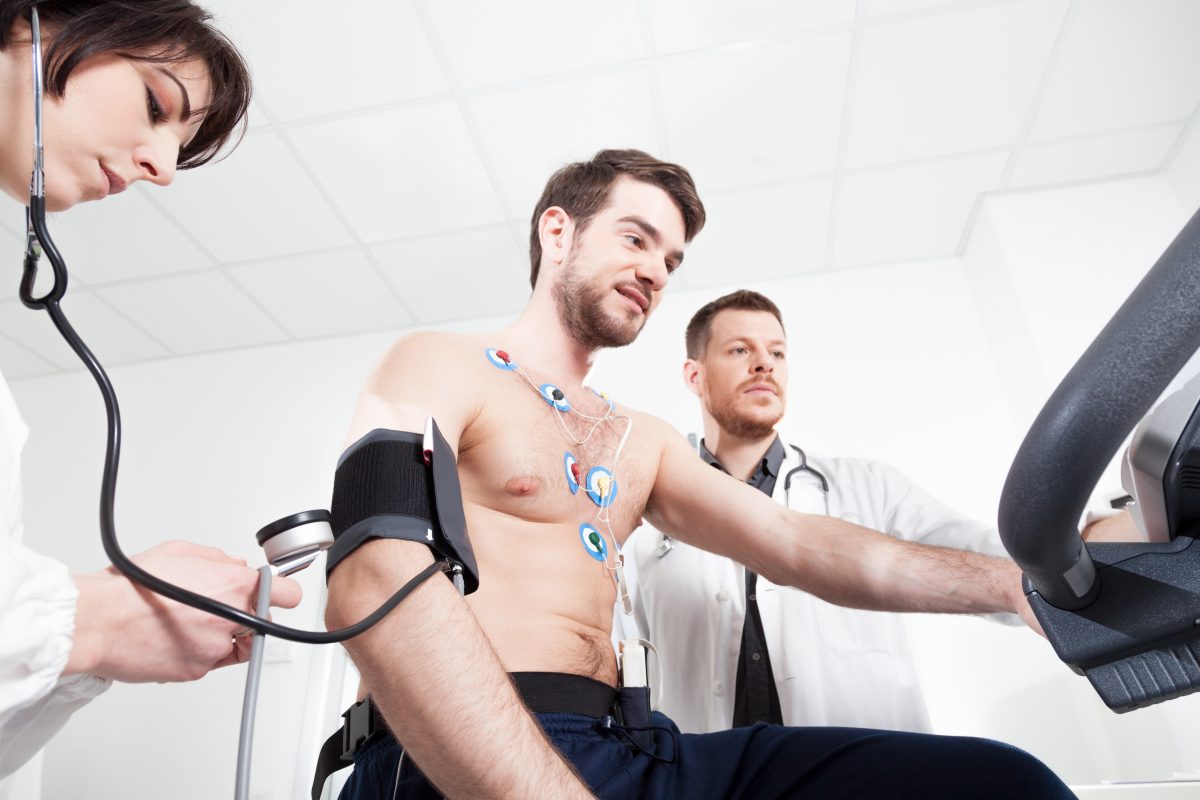 Exercise Stress Echocardiogram
A Stress Echocardiogram or "stress echo" is a combination of an ultrasound and exercise test.
What is it?
A Stress Echocardiogram or "stress echo" is a combination of an ultrasound and exercise test. The test compares how your heart muscle is pumping before and after exercise. This test takes about 40 minutes.
Take your usual medications on the day of the test unless your cardiologist tells you otherwise.
Patients should wear comfortable loose clothes such as tracksuit pants or shorts and comfortable walking shoes such as runners. Chest hair may need to be shaved to allow the electrodes to adhere to the skin. The practice nurse/technician will do this at the time of the test.  A loose gown will be supplied.
The cardiac sonographer will take images of your heart whilst at rest. A water-soluble gel is used as a contact medium between the probe and your chest wall to improve image quality. You will feel pressure on your chest where the sonographer is imaging.
Once the resting images have been taken you will be connected to an ECG machine used to perform a standard treadmill exercise test. A cardiologist will be present throughout this part of the test and your blood pressure, heart rate and symptoms will be constantly monitored. The treadmill will increase in speed and slope. It will be stopped when you cannot walk/run any further, when you have reached an appropriate target or at the cardiologist's discretion.
At the end of the exercise test the sonographer will take more images of your heart before your heart rate slows down. Collecting these pictures can be difficult after exercise due to your increased breathing effort and you may be asked alter your breathing pattern in order to obtain good quality images. The cardiologist will compare the resting images to those taken at maximum exertion.
A current referral from your GP or specialist
Medicare card
Any concession or health insurance cards
The cardiologist will verbally provide you with the results at the end of the test and a report of your results will be forwarded to your referring doctor.
There is a minimal risk of complication. A major potential complication is suffering a heart attack during exercise testing. The risk of this occurring is rare and death has very rarely been reported (1 in 10,000). The room is equipped with experienced staff and emergency equipment should an emergency arise.
Full payment will be required on the day of the test.
Cost of service

$295 (medicare rebates $196.10)