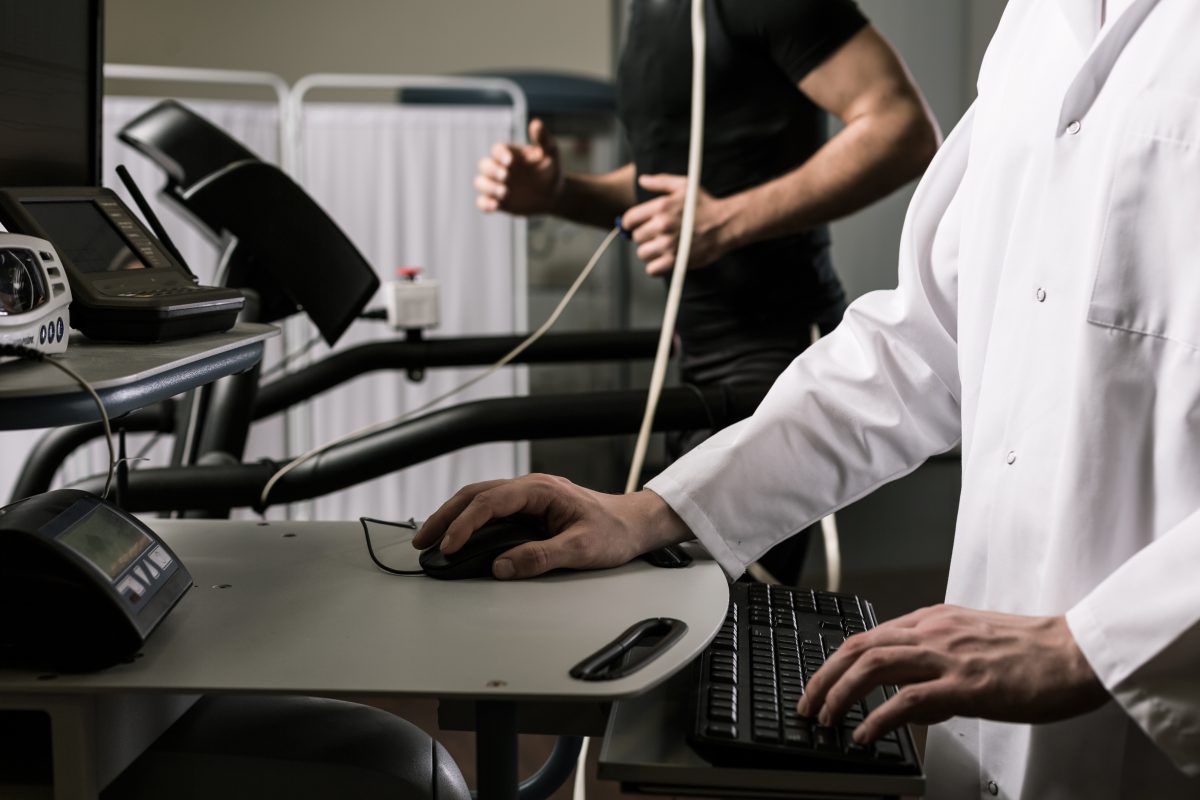 An Exercise Stress Test measures and records your heart's electrical activity while you are walking on a treadmill.
What is it?
An Exercise Stress Test measures and records your heart's electrical activity while you are walking on a treadmill. The treadmill will increase in speed and slope at specific intervals and your heart rate, blood pressure and electrocardiogram (ECG) will be continually monitored. A cardiologist and a cardiac nurse/technician will be present at all times. This test takes approximately 30 minutes.
Stopping medications before a Stress Echocardiogram (Stress Test)
In order for the stress test to be diagnostically accurate, ideally 85% of your maximal heart rate needs to be achieved.  As a result you will be asked to withhold your rate-controlling medications such as beta-blockers (withhold the night before and morning of the test for twice daily beta-blocker, and the morning of the test for once daily beta-blocker). Withholding any medicines must be tailored to your risk risk of rebound high blood pressure, fast heart rate or chest pain.  If you have any concerns please call 9509 6366 and speak with one of our staff.
Food, Fluid and Coffee?
Avoiding eating – as well as smoking and drinking alcohol – at least 3 hours before the test begins and try and avoid avoid caffeine (such as tea, coffee, cola and chocolate) for 24 hours before the test begins
Patients should wear comfortable loose clothes such as tracksuit pants or shorts and comfortable walking shoes such as runners. Chest hair may need to be shaved to allow the electrodes to adhere to the skin. The practice nurse/technician will do this at the time of the test.  A gown will be supplied.
A current referral from your GP or specialist
Medicare card
Any concession or health insurance cards
This test is usually performed on patients with known or suspected coronary artery disease, therefore there is a minimal risk of complication. A major potential complication is suffering a heart attack during exercise testing. The risk of this occurring is rare and death has very rarely been reported (1 in 10,000). The room is equipped with experienced staff and emergency equipment should an emergency situation arise.
The cardiologist will verbally provide you with the results at the end of the test and a report will be forwarded to your referring doctor within 24-48 hours. If the cardiologist dictates a letter, this will be sent at a later time.
Full payment will be required on the day of the test.
Cost of service

$550 and $354.85 rebate through Medicare